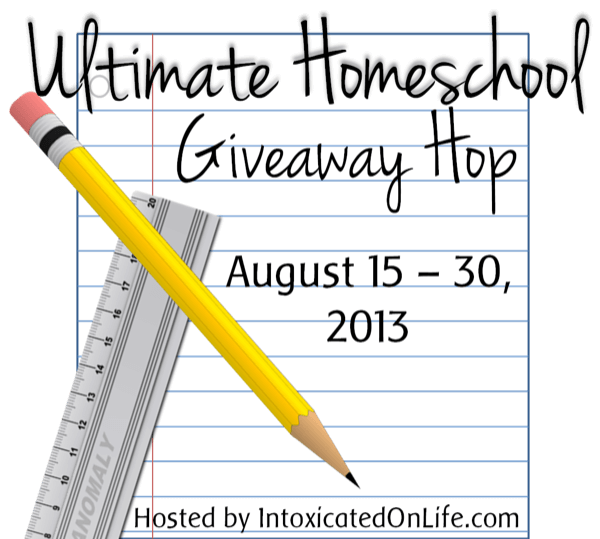 This giveaway is part of the Ultimate Homeschool Giveaway Hop hosted by Intoxicated on Life. Be sure to visit each of the blogs on the linky below for a chance to win many more amazing homeschool curricula, resources, and accessories.
I am excited to bless one of you with FOUR of the books that have blessed me in beginning our homeschooling journey!
Over the last few years I've been solidifying both why we want to homeschool, and how we want to go about it.  I've read lots of homeschool books, but there are about half a dozen that were really helpful or moving. Armed with this list of 6 books, I visited a local bookstore to browse their selection in hopes of finding one to giveaway to you.
An important note: this was a used book store – specifically the "Friends of the Library" bookstore that helps funds my husband's library. So, I thought, it was worth a try.
I didn't find one book on my list, I found FOUR! All in good condition! And I'm giving all four of them to one of you!
Click each book title for more information. These links are all Amazon Affiliate links, so any purchases made through them will benefit me. Thanks.
For the Children's Sake by Susan Schaeffer Macaulay – This book is a beautiful treatise on how to really LIVE life with your children. It is written for both parents and teachers and covers 18 of the principles that Charlotte Mason was passionate about. It is written from a solidly Christian foundation and is so far my absolute favorite book on education.
The Three Rs by Ruth Beechick – This is a compilation of three short works by Ruth Beechick on Reading, Writing, and Arithmetic. Each section explains how children learn these concepts in the early days of education and gives easy-to-implement steps for teaching the basics. It definitely helped me feel more equipped to teach.
The Well Trained Mind by Susan Bauer – This book is serious stuff. It's pretty much an only-book-you'll-ever-need-to-read sort of book if you want to teach your child with the ideals of Classical education (the Trivium). It is rigorous but full of helps and the focus is on high quality educational materials and literature, which is what I also appreciate about Charlotte Mason's philosophies. I have discovered that my preferences lean a little more toward CM, but I am keeping my copy of this on the ready to re-evaluate periodically.
Educating the Whole-Hearted Child by Clay and Sally Clarkson – It's no surprise to me that I love this book. I love pretty much everything the Clarkson's have ever written. This is an excellent "first book" to read if you are considering homeschooling. It's full of practical ideas but also a TON of inspiration and encouragement. The copy I'm giving away is not the most recent revision – I hear it's even better now!
I would love for one of you to have all four of these books to help you with your homeschooling journey, or to pass along to someone in a different place than you. Please do note again that these books are gently used. :) Enter the rafflecopter form below. Open to US only (that Bauer book is a TOME!).
a Rafflecopter giveaway
Our host, Intoxicated On Life, has also put together a grand prize worth nearly $1,000! This package includes art, music, history, science, Bible resources, writing, and more from these fantastic companies:
Click HERE to enter for this grand prize! (Disclosure: Intoxicated on Life and participating bloggers are not responsible for companies who do not fulfill their prize obligations)